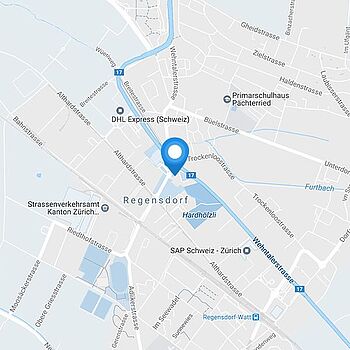 Lagerraum Regensdorf-Watt Althardstrasse
The main gate of our storage room at Althardstrasse 301, 8105 Regensdorf is directly at the ramp when you turn into the property and is clearly marked with signs. The McDonald's in front of the Grüt Park but also the Baur au Lac Regensdorf are only a few 100 meters away. In the building above our storerooms is the internationally known Inapa Schweiz AG.
Address:
Althardstrasse 301
8105 Regensdorf
Opening hours and access
Mo - Su: 06:00am - 11:00p,
using PIN code
Contact:
Our customer service team is available by phone from monday to friday,
from 08:30am - 12:00am and from 01:30pm - 05:00pm.
Mail: [email protected]
Phone: 044 842 66 44
Location of our selfstorage facility
Our facility at Althardstrasse 301, 8105 Zürich Regensdorf is located just behind the DHL Logistic Hub, just a stone's throw away from the Burger King on Neue Wehntalerstrasse. With this selfstorage location we are able to offer storage space to our customers in 8153 Rümlang, 8046 Affoltern, 8049 Höngg and 8102 Oberengstringen. Due to the central location near the Neue Wehntalerstrasse, and the good accessibility with a ramp up to the door of the camp, we are pleased to have already rented storage space to customers who found their way to us from Buchs to 8104 Weiningen, and from 8103 Unterengstringen to 8108 Dällikon. A family from 8952 Schlieren, which is currently on a trip around the world, has stored its furniture with us. Various small and medium-sized businesses from 8105 Regensdorf are also among our more than 300 tenants.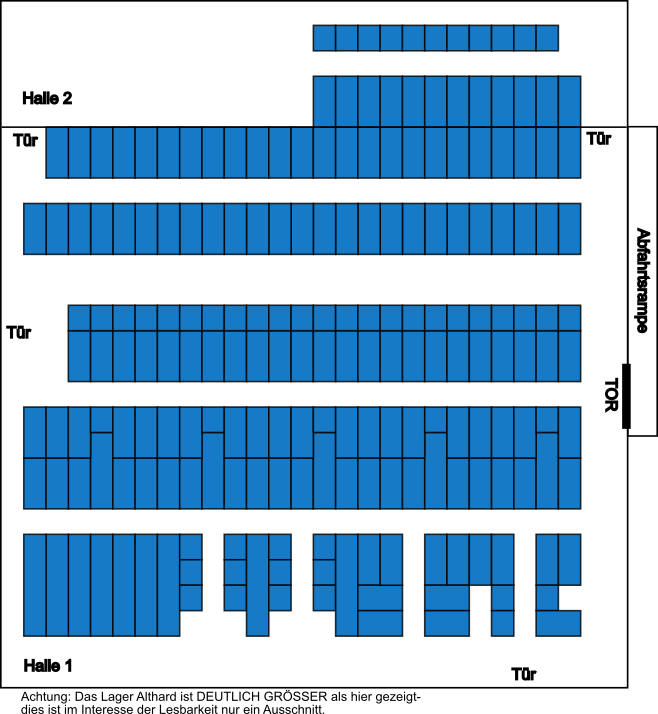 What does one of our self-storage locations look like from the inside?
Using the example of our location at the Schmiede Wiedikon in Zurich:Move your mouse over one of the numbers or letters to see pictures from the inside. Some of the boxes also offer a look inside. In this location you can park your car directly in front of the entrance gate.
Free transport?
Yes, under certain circumstances we can offer you the transport of your storage goods for free. Please contact Mr Weege or Customer Service Manager.
Get quote online
1/
3

: Select your desired location by clicking on it in the map:
2/
3

: Here you can see which sizes are available at

this location

. Please select the desired size: